Orphicy, an edtech startup based in Ahmedabad, recently announced the dates for its very own nationwide evaluation test- Orphicy National Skill Evaluation Test (ONSET). This evaluation test will be conducted on the Orphicy platform itself (Orphicy app available on both Apple AppStore and Google Play Store). The designated date announced for ONSET is on 2nd January 2022, Sunday.
The students who excel at the test will be awarded exciting prizes and scholarships. The test will also mark the beginning of the next academic session. Team Orphicy would strive to comprehend the strengths and areas requiring improvement for participating students so as to design an optimised and streamlined learning module for them. The EdTech startup has also created this test to assess the overall skill set of students- both in academic as well as non-academic fields. The test, followed by a personal, one-on-one counseling session with an expert academic advisor. This shall help the parents and their kids to make better decisions in the subsequent years in line with NEP 2020. Also, the parents and students will get an overview of the Orphicy Flipped a Learning approach and various courses offered to students to gain a competitive edge.
Through this test, Orphicy would also offer electronic gadgets like laptops and tablets PCs to the top 100 students. These prizes are decided to open up the entire world of the Internet and e-learning for the top performers.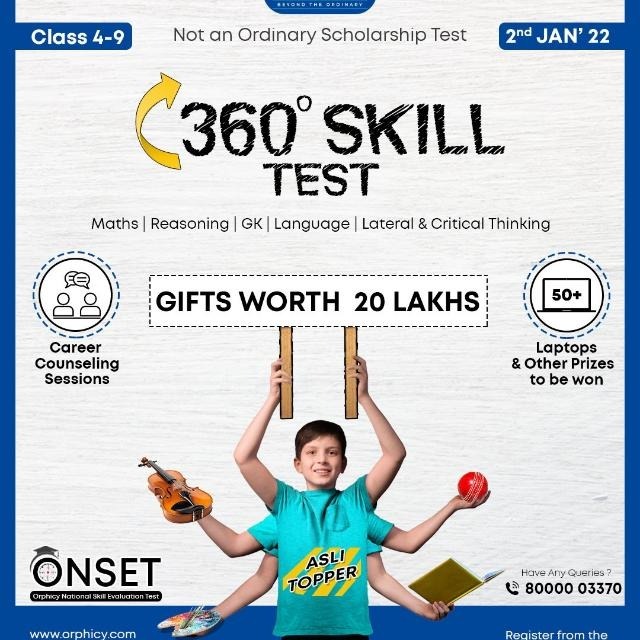 Vipul Tyagi, CEO, and Co-Founder of Orphicy, talks about ONSET, "Quite often institutes and companies make the error of analysing the students only on their math and science skills in the quest for finding the brightest talent. We have deliberately tried to ensure that ONSET is not only an evaluation of a student's math and science skills but an overall evaluation of the academic and decision-making sprouts of the child. The testing areas in the test are Maths, Science, Logical Reasoning, Lateral and Critical Thinking, Decision Making, etc.
He further adds, "We don't plan to make this test a rat race but want this to be an opportunity for students and their parents to discover themselves and realise their academic strengths and weaknesses."
"Our modules are designed keeping a holistic approach in mind. These modules will focus on extracurricular activities along with academics. We are sure that Orphicy students stand apart from their peers not only academically, but also in terms of their communication and interpersonal skills." Adds Tyagi.