Founder – Deepak Bansal
Co-Founder – Devleena Neogi
Website –  GingerCup
Founded in: 2015
What made you strike this business idea? What inspired you to start this company?
Devleena Neogi – My husband and I were chatting over a good cup of coffee when he mentioned to me about paper cup advertising. He spoke about how we can use paper cups to help advertise various brands and use it as an effective media. When he told me about it, I thought he wasn't that serious. However, few months later we actually went on to starting our own company. A casual conversation turned into a big idea.
Though I really loved the idea of cup branding, it didn't sink in completely because at that point I was well-settled in my career. On second thoughts, I decided to back my husband and his vision, and GingerCup was formed.
When did you start your business?
Devleena Neogi – Our company GingerCup was started in the year 2015.
What does success mean to your company?
Devleena Neogi – When marketers consider cup advertising as a viable branding opportunity, it is our biggest moment of success for the company. We also feel a great sense of pride when our existing clients call us for repeat campaigns. Those are the moments when we feel that we have completely achieved our vision and spread the word about paper cups as an effective media.
How are you performing currently?
Devleena Neogi – GingerCup has created a lot of buzz ever since its launch. The best part about advertising on paper cups is that our own product does the marketing for us. As they keep rotating at various touch points, people become aware of such a medium and approach us for campaigns for their brand. By God's grace and the strong willed determination of our team, we have run quite a few full-fledged campaigns.
What is the biggest challenge you faced during your start-up setup?
Devleena Neogi – Starting up is not easy, and thus like any other start-up, we did face our share of challenges. The biggest challenge we faced is to educate marketers on our paper cup advertising model. Our belief in the model made us make them understand how cup branding can help take their brand to greater heights. We presented multiple reports of how paper cup advertising is creating a storm of success around the globe.
We cracked it when we were approached by big brands such as Baahubali, Uber, Hotstar, Clovia etc. Impressed by the campaigns we carried out for these brands, many other brands in the similar segments started approaching us.
Another challenge we faced was in terms of hiring. Initially, we did not hire the right set of people. However, we realised and overcame it fast. Today, we are backed with a talented team of likeminded individuals.
What does growth mean to you and your business?
Devleena Neogi – When we see our clients spread the word about our company, we feel like we are growing. As a company, we are evolving each day. Learning is an on-going process, and we start with a fresh approach and strategy to face challenges every day of our start-up journey.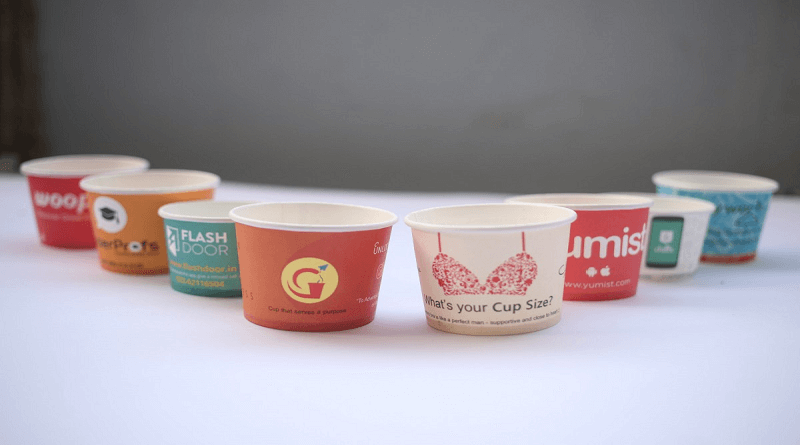 How does your product stand different from others in the market?
Devleena Neogi – Cup branding is a relatively new concept in India in the advertising space. Currently, there are just handful agencies doing it on a full scale. Our huge inventory and tie-ups make our company different. With GingerCup, a brand can reach 750+ corporate companies that includes MNC, SME, Start-ups, Co-working spaces, Food Courts of tech parks, 1100+ colleges, 60+ Hospitals, shopping Malls, 7 Airlines (International and Domestic) and Premium trains (Rajdhani, Shatabdi, Duronto) across India.
Paper cup ads offer a unique way of reaching a target audience with undivided attention of 3-5 minutes. It is a personal, dynamic and cost-effective solution.
Where are your start-up services spread?
Devleena Neogi – We offer paper cup advertising Pan-India in cities such as Bangalore, Delhi, Noida, Pune, Gurgaon, Mumbai, Kolkata, and many more. Soon, we wish to across the globe too.
What does it feel to be the founder of your start-up? How does it feelgetting up every morning and getting on to work?
Devleena Neogi – Well, starting-up is not easy. However, it feels great to be a founder of GingerCup. When we see our company making a difference for brands and their ROI, we feel like we have really achieved. It gives us a sense of accomplishment to know that we are catalyst in promoting their brand with our unique advertising strategy.
I wake up 'MOTIVATED' every morning to take on the day with a new set of challenges and exciting work ahead.
Where do you see your business standing in the next 5 years?
Devleena Neogi – Our future plans include adding more such unique and creative media. We wish to identify more such mediums that will make a difference for brands across various segments that are looking to reach their target audience effectively. We also want to expand our services across the globe.